Australia Luxury Expandable Container Granny Flat
Australia Luxury Expandable Container Granny Flat
Brand :weizhengheng
Product origin :China
Delivery time :20days
Supply capacity :300units/month
Live wherever you want with this incredible portable, pre-fabricated, expandable container home. This durable and stylish home is your go-to solution for reloadable, affordable living. Wherever you decide to live, we can ensure you'll be living comfortably and securely. This container home is easy to deliver and assemble and comes complete with all you need to feel right at home.

The expandable container house is composed of a steel structure and EPS sandwich panels. Normal size is 37m2 and 74m2. It includes bedrooms, a living room, dining area/kitchen and bathroom. The house comes equipped with full electrical wiring to many countries' standards, power points and a circuit board. Because of its complete functions and convenient installation, this expandable house
is perfect for a man cave, vacation houses, secondary family houses, office spaces, granny flats, temporary accommodation, pool house, gym, teenagers retreat, home office, pickers shack, shearers cottage, and even apartment, etc.
| | |
| --- | --- |
| Name | Luxurious multi-purpose movable expandable house |
| Size | L5850mm * W4350/5100/6360mm * H2500mm |
| Layout | 2 bedrooms, 1living room, 1 kitchen, 1bathroom / also can be customized |
| Colour | Can be customized according to your needs |
| Materials | Galvanized steel structure with sandwich panel wall and doors,windows,etc. |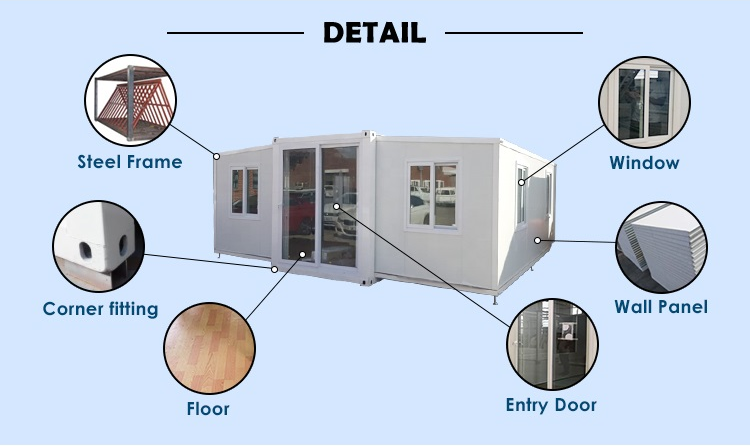 Features & Benefits:
? Wall panels come standard in Cream.
? The frame can be cream, light grey, blue, green, red or black.
? Additional sliding or casement glass door can be added to the side of the house exiting from the lounge room.
? Extremely fast installation – Can be living in the house in a matter of days.
? Internal and external walls are made from light weight steel. The walls can be painted or left in the supplied cream colour. The walls are easily washed (hosed) on the outside and wiped down on the inside.
? Highly insulated from outside heat and cold. Well insulated to retain inside heating and cooling.
? Well-sealed to prevent dust ingress.
? Fire resistant – The walls and roof are made from steel sheets with a non-flammable internal core. The floor is made from MGO board and the structure is made from galvanised steel.
? It's possible to re-locate the house with little fuss. Just disconnect services, remove the kitchen cabinets and partition walls then fold it up and crane onto a truck.
? Thermal: Great thermal properties with the Styrofoam walls and roofing. When an air-conditioner is used, the heat or cooling is well retained keeping power bills low.
? Fully termite proof: an all steel structure, with floor beams and joists being galvanised steel, All walls are made from sandwich panels which have a thin sheet metal outer and inner layer and a Styrofoam inner core. Flooring structure is MGO board.
? Rodent and pest resistant: Walls, floor and roof do not have a cavity, all but eliminating pest habitats.
? High quality floating floor provided for lying over the top of the structural floor.
? World-wide delivery.

? Available for single or bulk purchase prices.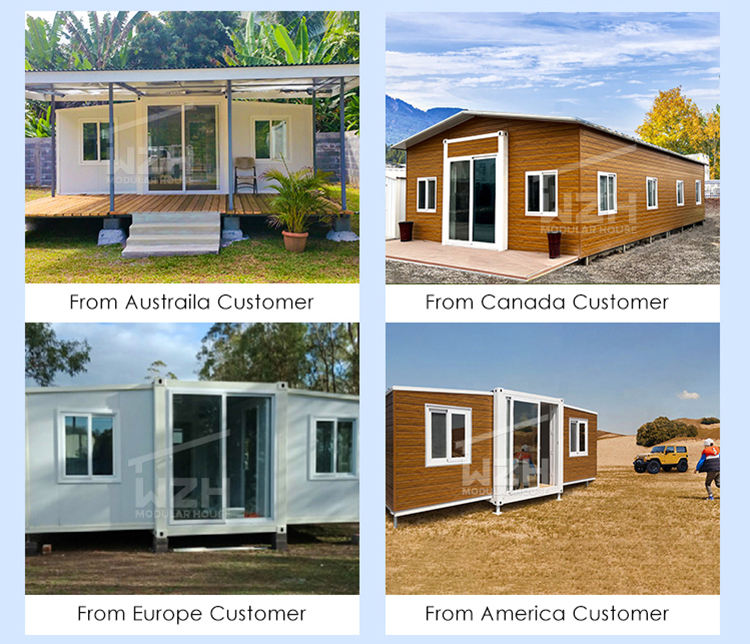 Get the latest price? We'll respond as soon as possible(within 12 hours)