30ft 1 Bedroom Expandable Granny Flat
30ft 1 Bedroom Expandable Granny Flat
Brand :WZHGROUP
Product origin :CHINA
Delivery time :20DAYS
Supply capacity :300UNITS/MONTH
Features & Benefits:
? Wall panels come standard in Cream.
? The frame can be cream, light grey, blue, green, red or black.
? Additional sliding or casement glass door can be added to the side of the house exiting from the lounge room.
? Extremely fast installation – Can be living in the house in a matter of days.
? Internal and external walls are made from light weight steel. The walls can be painted or left in the supplied cream colour. The walls are easily washed (hosed) on the outside and wiped down on the inside.
? Highly insulated from outside heat and cold. Well insulated to retain inside heating and cooling.
? Well-sealed to prevent dust ingress.
? Fire resistant – The walls and roof are made from steel sheets with a non-flammable internal core. The floor is made from MGO board and the structure is made from galvanised steel.
? It's possible to re-locate the house with little fuss. Just disconnect services, remove the kitchen cabinets and partition walls then fold it up and crane onto a truck.
? Thermal: Great thermal properties with the Styrofoam walls and roofing. When an air-conditioner is used, the heat or cooling is well retained keeping power bills low.
? Fully termite proof: an all steel structure, with floor beams and joists being galvanised steel, All walls are made from sandwich panels which have a thin sheet metal outer and inner layer and a Styrofoam inner core. Flooring structure is MGO board.
? Rodent and pest resistant: Walls, floor and roof do not have a cavity, all but eliminating pest habitats.
? High quality floating floor provided for lying over the top of the structural floor.
? World-wide delivery.
? Available for single or bulk purchase prices.
30ft 1 Bedroom Expandable Granny Flat
External size

L9000mm*W6360mm*H2500mm

Inner size

L8680mm*W6260mm*H2420mm

Packing size

L9000*W2250mm*H2500mm

Option size

20ft,30ft,40ft,etc...

Main material

Galvanized steel structure with sandwich panel wall and doors,windows,etc.

Weight

2500kg

Color

White,blue,green,brown, or customized

Roof

3-4mm Hot galvanized steel structure with 4 corner casts and
(1)Galvanized steel roof covering;
(2)50mm -70mm eps sandwich panel or PU sandwich panel ;
(3)50mm-70mm eps sandwich panel or PU sandwich panel ;

Columns

3mm Hot galvanized steel structure

Wall

75mm EPS/PU sandwich panel

Door

Made of steel/aluminum frame,dimension W870*H2040mm,furnish with a handle lock with 3 keys,or sliding glass door W1500*2000mm.

Window

Made of PVC/aluminum fame,dimension W930*H1100mm,glazed with double glass in a thickness of 5/8/5mm.

Connection kits

PVC Connection kits for ceiling,floor and walls.

Electricity

3C/CE/CL/SAA Standard,with distribution box,lights,switch,sockets,etc.

Optional accessories

Furniture,sabnitary,kitchen,A/C,electrical appliance for accomodation,office,dormitory,toliet,kitchen,bathroom,shower,steel
roof,cadding panels,decorative material,etc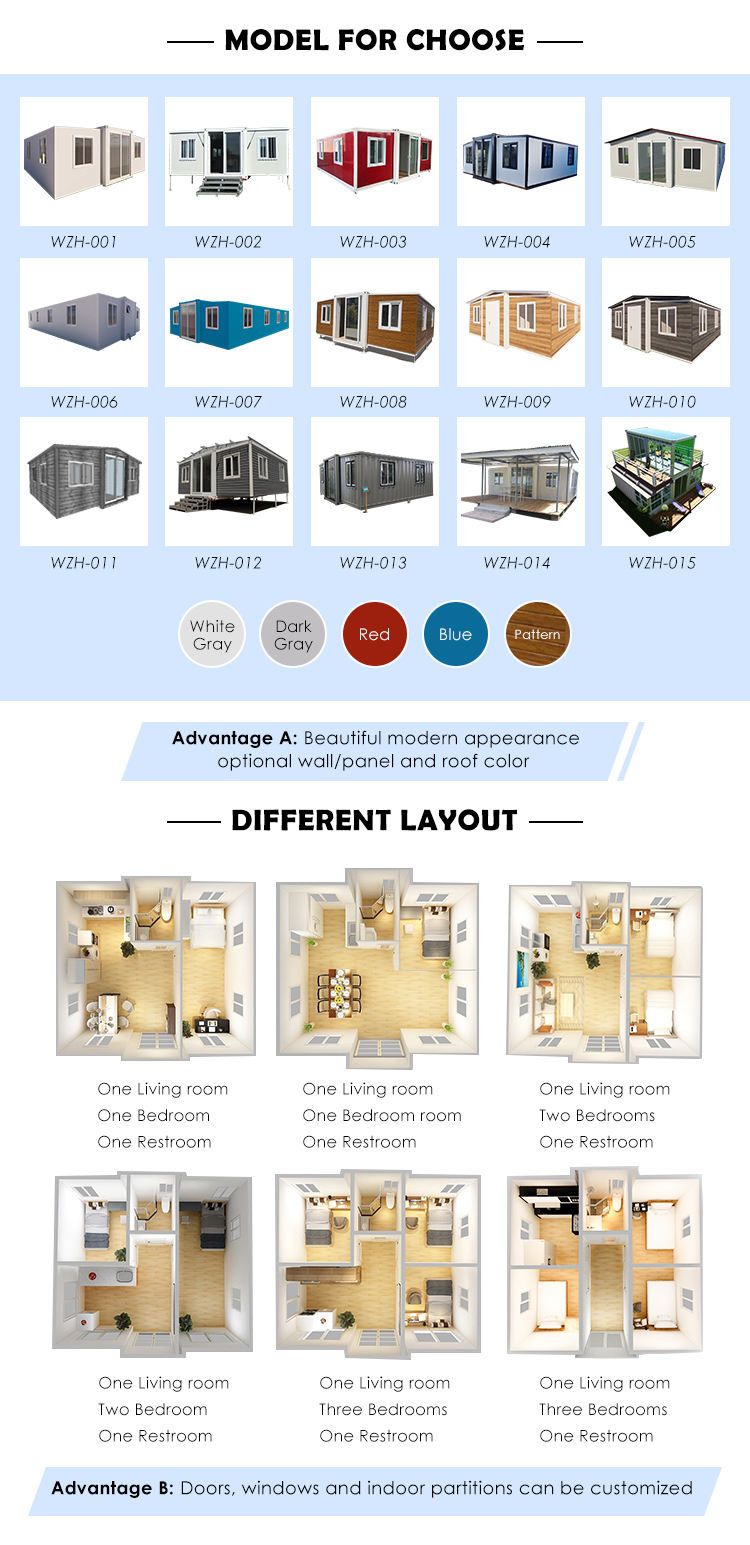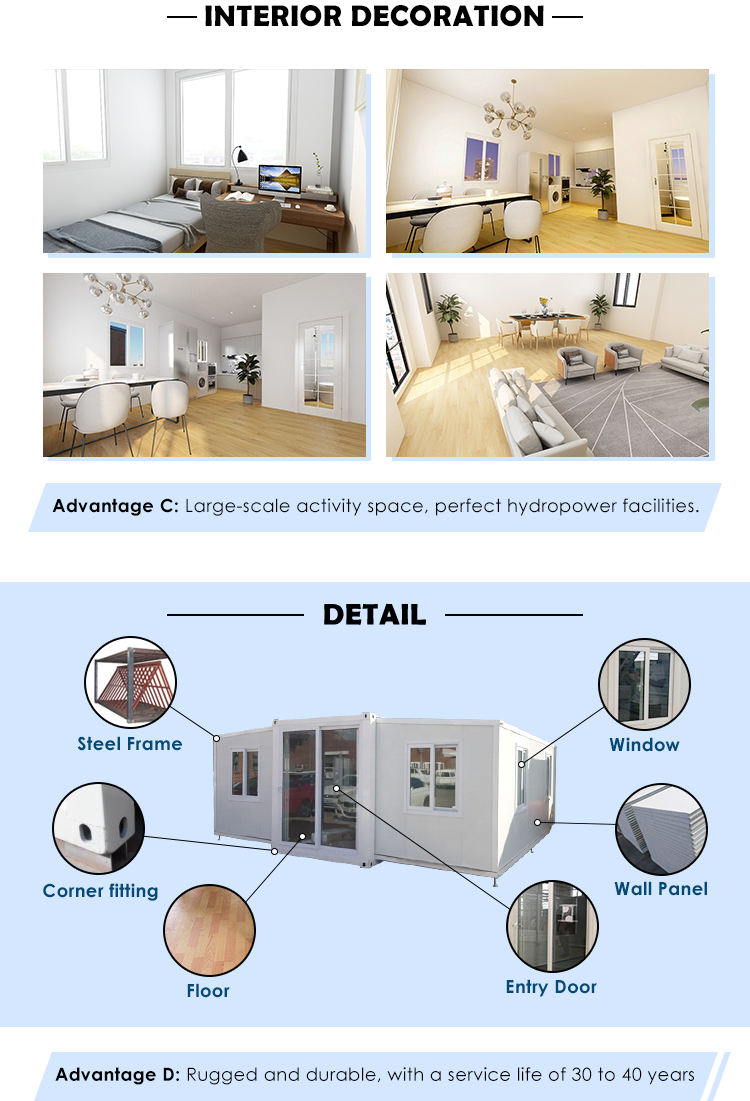 Expandable Modular Prefabricated Living Container Houses
The prefabricated camp house description:37 or 74m2
Modular home inside :
This pop up home has a beautiful open plan lounge and kitchen, with great size bathroom and literally folds out.

Construction and assembly:
On average, it takes our highly skilled and experienced team 3 days to construct on site. It is fully transportable and relocatable and can be packed up within hours with very little fuss.

Transport or relocating:
They are transported on a tilt tray and placed onto 12 foundations.

SAA approved wiring:
You can use it as a granny flat, temporary home or you principle place of residence, and it comes with SAA approved wiring.

Framing:
The structure is galvanised steel with 75mm EPS sandwich panels, making the house very well insulated and keeping it cool in summer and warm in winter, and is compliant with an Australian engineers design certificate and form 15 for council.
The house is very homely, bright, has plenty of windows for natural light and will deliver a fantastic return on investment, however you use it.
Get the latest price? We'll respond as soon as possible(within 12 hours)