20ft Prefab New Zealand Expandable Tiny Home
20ft Prefab New Zealand Expandable Tiny Home
Brand :WEIZHENGHENG
Product origin :CHINA
Delivery time :20 Days
Supply capacity :300SETS/MONTH
1. Customized design: You can choose what kinds of house you want
2. Lower transportation cost: The flat packed 4 units are delivered in bundles without containers,up to 75% transportation cost canbe saved.
3. Time-saving, Labor saving and Easy assembly: 2 skilled workers can finish assembling one standard unit within 3 hours
4. Flexible combination: Multiple modular buildings can be easily created by stacking and interlinking units together
5. Wide applications: our container house and prefab house can be used as warehouse, home, villa, toilet, shop,hotel,camp,workshop,office.
Are you looking for a simple caravan/expandable home/holiday house that also has class and moderen style? Our Expandable container home will be the perfect solution for you.
The Expandable container home is a 37 sqm expanding home that can be set up almost anywhere.
The Expander comes with all the homely features at an affordable price. And we have display house in QLD/NSW/WA/VIC/TAS/NT customer can visit any time they want.Also we have cooperate company provide solar/trailer/balcony install options.
- Nearly 37 square meters assembled.
- 2 bedrooms. [ 3 beds on the 40 footer]
- Complete bathroom with shower, Vanity and toilet.
- Complete with fully functioning kitchen with stone tops.
- Comes complete with A/S electrical cable, power points and Power board.
- Double glazed windows with fly screens.
- 75mm EPS Panel walls [ Fridge type panels] on all external and folding roof panels.
- Easily set up and recommended be placed on 14 piers [ 40 footer on 26 piers].
- Able to be placed on Tandem axle trailer base and featured as a Vanhome or Mobil unit. We offer the option of placing them on a registered trailer base so making them a Van home. Fully registered 4500kg capacity, 70 mm tow hitch or Pintle hook, making them fully legal to carry on the road.
- They can be placed as storage container, as they have the container hooks and can be folded/unbolted and removed easily.
- Easily transported [ 20 footer] with tilt tray.
- Folded transport size: 5850mmx 2250mm x 2550 mm.
- Unfolded size: 5850mmx 6310mm x 2550mm.
- Easy setup and can easily be done by Home handyman.
- Please note that the front deck and front tile/wood look cladding are extras.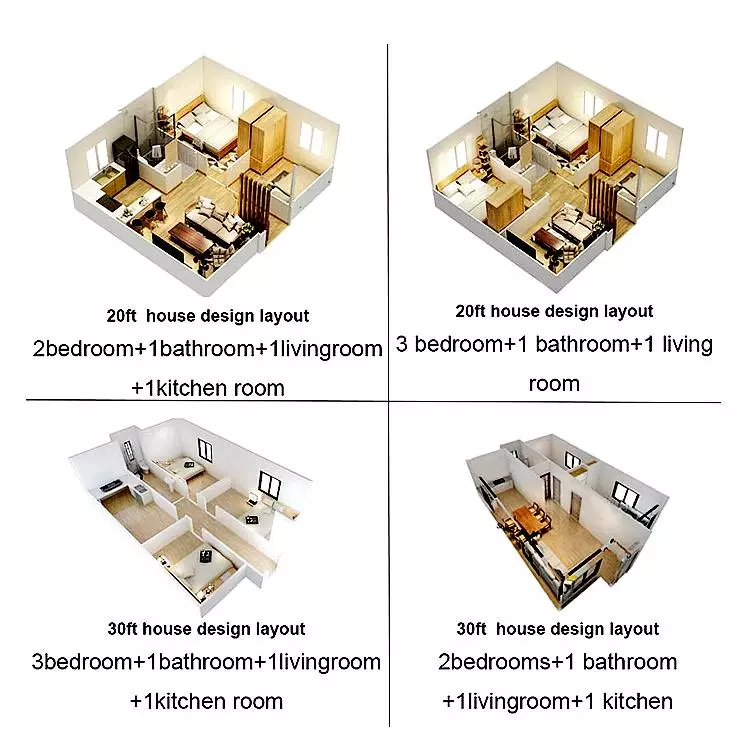 Get the latest price? We'll respond as soon as possible(within 12 hours)